Built in the 1960's, Colwood was developed with a passion for green space and an integration with nature that people with a growing family can enjoy. Just a few of the neighbourhoods that encompass the area, Wishart, Triangle Mountain, and Royal Roads all are unique staples of the Colwood atmosphere.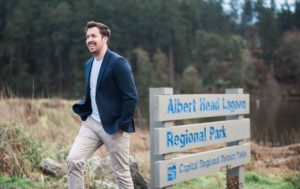 Wishart, which is located in the heart of Colwood, is distinguished by their homes with ample setback from both the road and neighbours, plenty of space for the expanding family, and a sense of
community with small business operations and long-time residents. The surrounding neighborhoods offer plenty of green space, animal sanctuaries and beaches. Albert Head National Park is known for its protected lagoon that attracts local ducks, geese, and swans, as well as many other varieties of migrating birds.
The pride of ownership sometimes lacking in newer neighbourhoods is never in question on the inclines of triangle mountain, the flat streets of Painter, or the vast fields surrounding city hall. The true value of this neighbourhood represents itself when children move their way up through the three levels of schooling that forms a perfect triangle around this very desirable neighbourhood. With the addition of Royal Bay, the three stages of schooling in the area are now complete. Families start their schooling at Wishart Elementary, continue on to Dunsmuir for middle school, and graduate from the newly built Royal Bay High school. The small, family-run corner store on the borders of the Primary school has become a great place for parents to mingle while waiting for their children to finish school.
The real crown jewel, at least in my eyes, and a staple of Colwood is the always-fresh Royal Bay
Bakery, located on the outskirts of Wishart.
With this community continuing to expand, Colwood Mayor, Rob Martin, has recently proposed a Sea Bus from Royal Bay that would provide a commuter service to downtown Victoria. This could be a major benefit to living in the areas surrounding the shorelines of Colwood.
Wishart offers a variety of mid-range homes with plenty of space for the expanding family. With endless walking trails inside the parkland of Royal Roads University, the growing community cannot be overlooked as a possible home for you and your family.
Looking to discover the beautiful community of Wishart, Colwood?  I'd love to help you connect with the West Shore! Contact Me Today.